Domaine Jean-René Germanier
Valais, Switzerland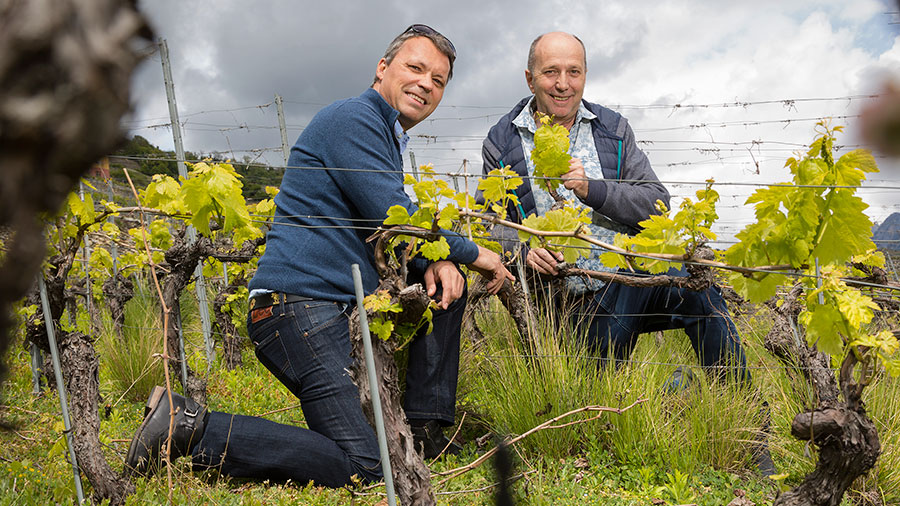 From the first harvest in Balavaud in 1896, Urbain Germanier was passionately devoted to his vineyard. Later, his three sons, Francis, Paul and Charles took the reins, and their wines went on to rank amongst the best in Valais. In around 1940, Francis Germanier decided to plant a type of dessert pear in the Rhône Valley known as the "Bon Chrétien William", after its first cultivator. In 1945, a violent storm destroyed the entire harvest. In the face of this disaster, Francis decided to distil the fruit. The result was an eau de vie of extraordinary flavour and balance: it was the birth of the Bon Père William brandy and its iconic bottled pear.
Today, the third and fourth generations, Jean-René Germanier and his nephew Gilles Besse (both oenologists), are continuing the family tradition in wine and spirits, still with the same passion, curiosity and high standards of quality. Their wines have earned them a place amongst the best wine producers in Switzerland, focusing particularly on local grape varieties and specialities from Valais's unique terroir.
Out of love for the art of winemaking quality is the highest priority at Domaine Jean-René Germanier. Each of the vineyard parcels receives regular, individual care, above all in the fall in order to fix the date of harvest, the pivotal moment for the future character of our wines.
The Domaine is located in Balavaud, a hamlet of the comune of Vétroz situated at the heart of the Valais and the Rhone Valley, famous for its warm, dry microclimate in the summer months. The imposing wine cellar and other facilities for winemaking, aging and bottling greet visitors at the entrance to the village and are open for tour by appointment.
Address:
Route Cantonale 291 Balavaud
1963 Vétroz
Switzerland
---
Be the first to rate and write a review for Domaine Jean-René Germanier ... here