Marqués de Riscal
Rueda, La Rioja, Spain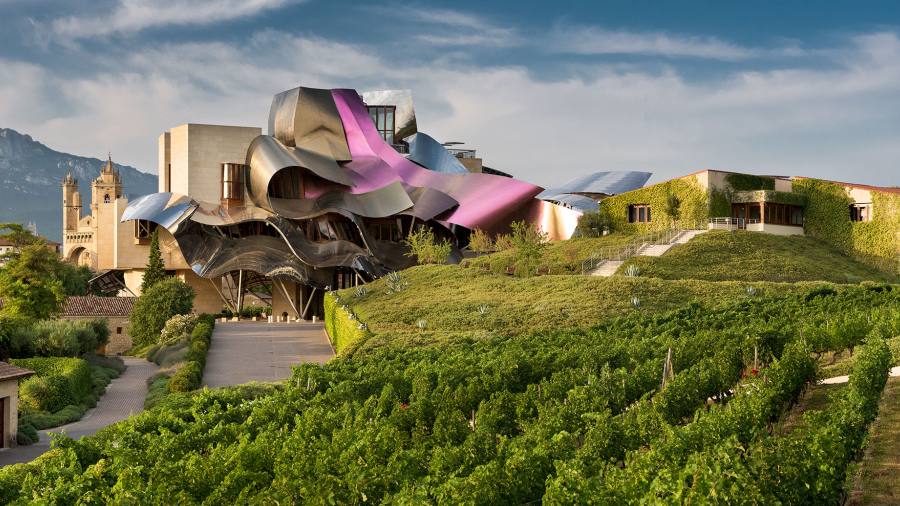 Wine Region : Rueda, La Rioja, Spain
Size : 230 ha
Grapes : Tempranillo
Winemaker : José Luís Muguiro Jr.
Web: Marqués de Riscal

In 1858 Marqués de Riscal was founded by D. Guillermo Hurtado de Amézaga. Marqués de Riscal was the first non-French wine to win the diploma of honor of the Bordeaux Exhibition. This diploma was added to the wine's label. At the beginning of the 20th Century, Marqués de Riscal covers its bottles with a Golden net. This measure was taken in order to avoid falsifications.

Marqués de Riscal is one of Rioja's oldest and most famous wine estates. It makes a range of traditional-style Rioja wines predominantly from Tempranillo Located in Álava, in the heart of the Rioja wine region, Marqués de Riscal is a famous winery producing for over 100 years some of Spain's most distinguished wines. It owns 540 hectares of vineyards and controls another 900 to produce more than six million bottles a year. The vineyards, vicinity of Elciego, are planted with Tempranillo, Graciano, Cabernet Sauvignon and Mazuelo.

The Marqués de Riscal city of Wine, located in Elciego (Álava), offers the experience of exploring the history of the bodega since its foundation in 1858 to the modern day, with the chance to enjoy the wine through the use of all five senses.

Visitors can start their discovery of the complex, the Plaza del Reloj (Square of the Sun Dial). From there, they will be able to see the Original Bodega, which was built in 1860, where the treasures of Marqués de Riscal are kept, the Bottle cellar for ancient wines, also known as the Cathedral. Next visit the first enlargement of the bodega, a building dating from 1883 constructed in the Bordeaux style and known as El Palomar (the Dovecote) where these days the company's premium wines are made. Finally, the last visual impact will hit you from above, where, contrasting with the tradition of the various different sandstone buildings, you can distinguish the avant-garde style of the 21st century of the Hotel Marqués de Riscal, a Luxury Collection Hotel, designed by the renowned architect, Frank O. Gehry.
Address:
C/ Torrea 1
01340 Elciego, Álava
Spain
---
Be the first to rate and write a review for Marqués de Riscal ... here