World's First Winery Airline Launched, Business Class in Every Glass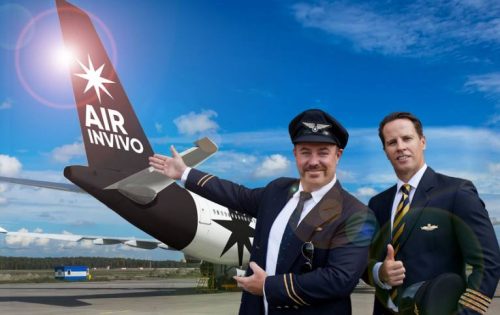 Auckland, New Zealand, January 23, 2022 / TRAVELINDEX / New Zealand's borders have just re-opened after 119 days and to celebrate Invivo Co-founders Tim & Rob launch "Invivo Air", what we believe to be the world's first winery airline.
The maiden flight will take place in early 2022 from Auckland to Queenstown in a chartered 34-seater Swedish built Saab plane. There will be a number of allocated complimentary seats* on the flight for selected guests and Tim & Rob are inviting Aucklanders to register their interest online at Invivoair.com prior to 6pm on 14 January 2022.
Priority for seats will be given to Auckland hospitality and tourism staff who have been affected by the lockdown, members of the public who haven't seen their South Island family or friends in 2021 due to the borders and Invivo shareholders.
Selected guests will enjoy a 24-hour line-up of special experiences by Invivo and partners in Queenstown, including a stay at The Hilton Queenstown, visits to Invivo's Central Otago growers and more.
Tim comments "It's been a tough period of time, particularly for our bars and restaurant customers in both the North and South Island heavily reliant on local tourism. Running a flight to the South Island is a way that we can show the public the country is open again for domestic tourism, and at the same time support some of those who have had a particularly tough time of it. We are not ruling out further flights to other New Zealand destinations as well. At Invivo Air it's business glass in every glass!"
"Invivo Air" passengers will need to comply with all applicable rules and regulations, including showing their valid vaccine pass before boarding. Head to Invivoair.com for more.
Share the news with your friends – especially those impacted by the border closures and lockdowns!