Female-led Gelato Brand Nakhati Launched in Saudi Arabia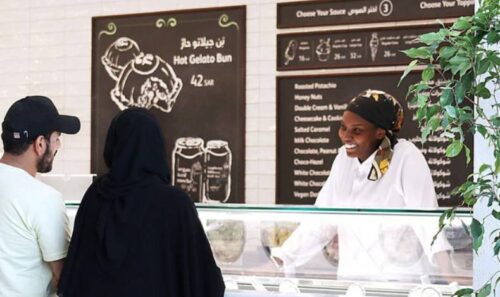 Riyadh, Saudi Arabia, August 24, 2022 / TRAVELINDEX / Kerten Hospitality is launching their first female-led global gelato brand — Nakhati — as part of the company's focus on ESG-based business practices. With a flagship store launching in Riyadh, Nakhati is a purpose-led gelato brand, which in Saudi Arabia will be driven by Saudi female foodpreneur Eman Fallatah. The franchise-able brand is planned to expand globally led by a local female foodpreneur in each location.
Not only does Nakhati make tasty, premium handcrafted gelato, it also empowers entrepreneurship. By offering a comprehensive suite of high-quality tools developed to encourage growth and empowerment, Nakhati supports the increasing number of women in the region keen to own their franchise and to launch their own careers in business. The plan is to establish 200 outlets by 2024.
The main force behind Nakhati's Riyadh store, Fallatah has supported the launch and growth of multiple F&B businesses and projects in Saudi Arabia, including those led by the Ministry of Culture, Ministry of Higher Education, Almarai, and the Diriyah Gate Biennale. She also mentors young cooks and chefs, and has worked as a food stylist supporting local and international brands entering the Saudi market.
"Sweets and desserts have always been popular with consumers in the region, but typically they were lower quality, imported products," said Fallatah. "Regional demand is increasing for higher quality, premium products versus low-quality commoditized items, and this is where Nakhati comes in."
Flavors will include traditional popular gelato varieties given a Nakhati twist, such as organic roast pistachio, mascarpone with local honey and walnuts, and hazelnut with chocolate rocks, as well as those inspired by Saudi traditions and regions, such as the popular karak tea drink, traditional desserts from the Najd region, and roses from Taif. All combined with traditional Italian techniques, true Italian gelato bases, and only produced with the most state-of-the-art Italian equipment, to produce the best of both worlds.
Commenting on some of the signature serves, Fallatah said: "We have been working hard with our key equipment partners to bring some fantastic innovations and firsts for the region. Imagine if you could keep your hands warm while eating gelato … hot gelato buns is all we will give away at this stage." She also highlighted a beverage program using Nakhati's exclusive recipes with all products made on site, such as the Vegan Iced Mocha, crafted and packaged in-house using signature vegan dark chocolate gelato.
With consumers these days being savvier about the quality of products, there is also more focus on a healthier lifestyle, and Nakhati's 50 percent lower fat content than similar products will appeal to health-conscious consumers.
"As a female Saudi foodpreneur, I'm excited to be launching Nakhati, a brand that builds collaborations and offers opportunities to help women embark on their own entrepreneurship journeys," added Fallatah.
With more than 40 projects in development across 12 lifestyle-driven concepts on three continents, Kerten Hospitality's latest launch is another example of the brand's strong commitment to environmental, social and governance values and responsible community-based business practices.