Domaine Weinbach
Alsace, France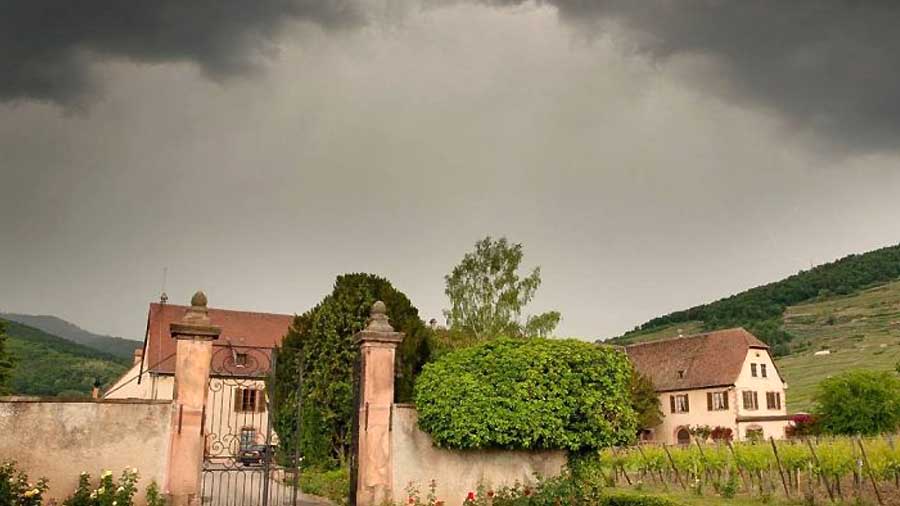 Wine Region : Alsace, France
Size : 80 ha (197 acres)
Grapes : Riesling
Winemaker : Eddy Leiber-Faller
Web: Domaine Weinbach

Au pied de la majestueuse colline du Schlossberg, dans un écrin de vignes et de roses, le Domaine Weinbach "ruisseau du vin",du nom du petit cours d'eau qui le traverse, fut édifié en 1612 par les moines Capucins.
Vendu comme bien national à la Révolution Française, le Domaine est acquis en 1898 par les frères Faller qui le transmettent à leur fils et neveu Théo. Grande figure du vignoble alsacien et ardent promoteur de sa reconnaissance en Appellation d'Origine Contrôlée, Théo Faller oeuvre pour la qualité des vins d'Alsace et la mise en valeur de leurs incomparables terroirs et cépages. Amoureux de sa propriété, il la développe, l'agrandit et l'embellit.
A partir de 1979, son épouse Colette et ses filles Catherine et Laurence ont fait preuve de la même passion pour les grands vins d'Alsace et du même attachement sans faille à la qualité.
Depuis 2016, Catherine Faller dirige le Domaine avec ses fils Eddy et Théo.
In 1998, Domaine Weinbach began working in accordance with the principles of biodynamics on a total of 8 hectares. The culture methods of the rest of our vineyards were based on classic organic viticulture. Since 2005, the whole surface (28 hectares) has been worked according to biodynamics.
Origins of biodynamics :
Biodynamics begins with organic viticulture and is rooted in the work of Dr. Rudolf Steiner's complex body of research, aimed at finding a new way to integrate scientific understanding with recognition of a spirit in nature. It was then developed by Maria Thun and goes a lot further than just avoiding chemical products.
Address:
25 Route du Vin
68240 Kaysersberg
Alsace, France
---
Be the first to rate and write a review for Domaine Weinbach ... here