Château Monlot
Bordeaux, France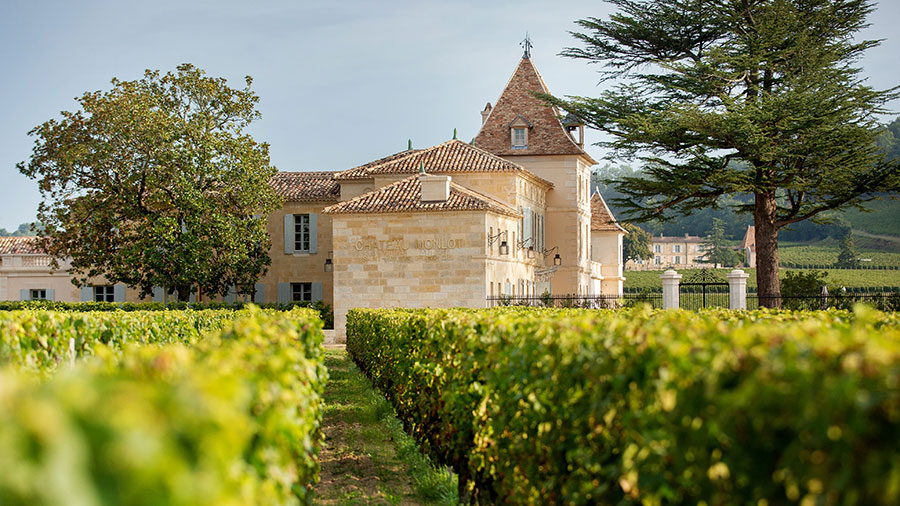 Wine Region : Bordeaux, France
Size : 13 ha (32 acres)
Grapes : Merlot (75%) and Cabernet Franc (25%)
Winemaker : Ms. Zhao Wei
Web: Château Monlot Bordeaux

Located in the heart of the Saint Emilion, this 8-hectare property will charm you with the beauty of the recently renovated residence and its modern cellars, which have been renovated in accordance with tradition.
HISTORY
Its history began in the 17th century. Built on the land belonging to King Louis XIII, the residence was passed on to the Countess of Guerchy and her brother the Marquis de Beuvron, and became the Seigneury of Capet. It was then owned by the Taillade families in 1763, then Ichon 1803, who chose to name it "Mon lot", which means "my lot", from which it takes its current name. Since 1990, Bernard and Béatrice Rivals had been the owners of the premises.
VINEYARD
With a total area of 8 hectares, the Château Monlot vineyard is divided into two main different parts; the first part is about 3 hectares of land is located on a hillside, with its clay-limestone soil, where our first wine, Héritage de Monlot is mainly made. Another 5 hectares, the soil of which is clay-loam, and it is where our second wine, Héritage de Monlot, is mainly made.
OWNER
Zhao Wei is an internationally recognized personality, a complete artist (actress, singer, director) who has received many awards in her career and becomes one of the most popular celebrities of her generation. Zhao Wei divides her time between her family, her professional career and her many projects. She devotes her passion into wine-making with her discretion and intensity. She spent two years looking for the ideal property, the one that would allow her to realize one of her dreams, the creation of fine wines. Seduced by its potential, she fell in love with Château Monlot. Zhao Wei then started working hard to present her wines on the international scene. In 2012, the wine world welcomed her involvement by introducing her into the Jurade de Saint-Emilion.
Zhao Wei's willingness and ambition to produce wines of excellence convinced three well-known personalities in the wine world. Agronomist Claude & Lydia Bourguignon and oenologist Jean-Claude Berrouet brought their precious advice and experience to create exceptional wines. Château Monlot symbolises the meeting of different cultures, whose destinies meet and merge into a single passion: the love of wine.
VISITS
Discover the secrets of the vineyard, from the evolution of the vine to a visit to the completely renovated cellar, visitors learn everything about the work at Château Monlot. Visits end with a tasting of different wines in the magnificent tasting room. Visits at Château Monlot are organised by appointment only.
Address:
Château Monlot
1 Lieu-Dit Au Conte
33330 Saint-Hippolyte, France
---
Be the first to rate and write a review for Château Monlot ... here