Château Margaux
Médoc, Bordeaux, France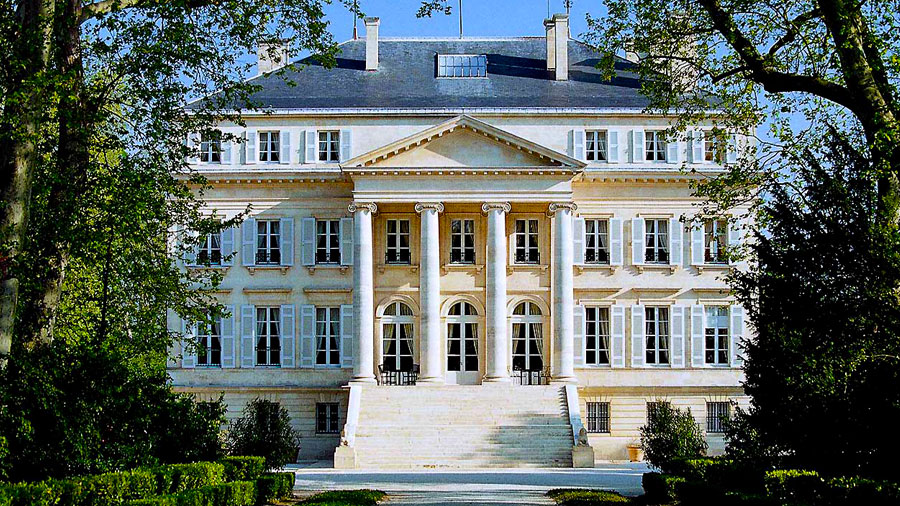 Wine Region : Médoc, Bordeaux, France
Size : 85 ha
Grapes : Cabernet Sauvignon, Merlot
Winemaker : Corinne Mentzelopoulos
Web: Château Margaux

Located in the Médoc region, Château Margaux is a wine-growing estate with a unique terroir. Belonging to the Mentzelopoulos family since 1977. Chateau Margaux is a traditional Bordeaux winery and one of only five first-growth estates in France's prized Medoc region. The estate is one of the most consistent producers in all of Bordeaux, making one of the top wines year after year. The estate predominantly uses organic farming methods to produce around 10,000 cases of its Grand Vin every year. Every grape is handpicked, with the final blend comprising Cabernet Sauvignon, Merlot, Cabernet Franc and Petit Verdot. The wine is aged for 18-24 months in new oak barrels, and fined with egg white.
HISTORY
The history of Chateau Margaux dates back almost 1,000 years. In the 12th century, the property was known under the name of "La Mothe de Margaux". but it was with the arrival of the Lestonnac family in the 16th century that wine production became of particular importance, and in the 1570s Pierre de Lestonnac expanded the property and cleared many of the grain fields to make way for vines. In 1771, wine from the estate became the first claret to be sold at Christie's,and upon visiting Bordeaux in 1787, Thomas Jefferson made note of Château Margaux as one of the "four vineyards of first quality".
VINEYARD & TERROIR
The domaine of Château Margaux extends 262 hectares (650 acres), of which 87 hectares (210 acres) are entitled to the Margaux AOC declaration. 80 hectares (200 acres) are planted with 75% Cabernet Sauvignon, 20% Merlot, with 2% Cabernet Franc and Petit verdot. 12 hectares (30 acres) are cultivated with Sauvignon blanc to make the dry white Pavillon Blanc.
WINES
The floral bouquet of a Château Margaux wine is unrivaled. Margaux wines are renowned for its perfumed elegance and the best have an enviable structure, layers of complexity, and formidable length. The style of wine produced by Chateau Margaux blends elegance, purity of fruit, harmony and finesse. The wine is rich, full bodied and offers cassis, truffle and haunting scents of violets.
TEAM
Owner & CEO: Corinne Mentzelopoulos
Managing Director: Philippe Bascaules
Estate Director: Sébastien Vergne
VISITORS
Visits to the cellars by appointment only from Monday to Friday. Closed on weekends, public holidays, in August and during the harvest. Tasting is only for professionals. It can be difficult to arrange a visit of Chateau Margaux and typically need to be arranged by a wine professional or guide.
Address:
Château Margaux
33460 Margaux
France
---
Be the first to rate and write a review for Château Margaux ... here