Château Angélus
Saint-Emilion, Bordeaux, France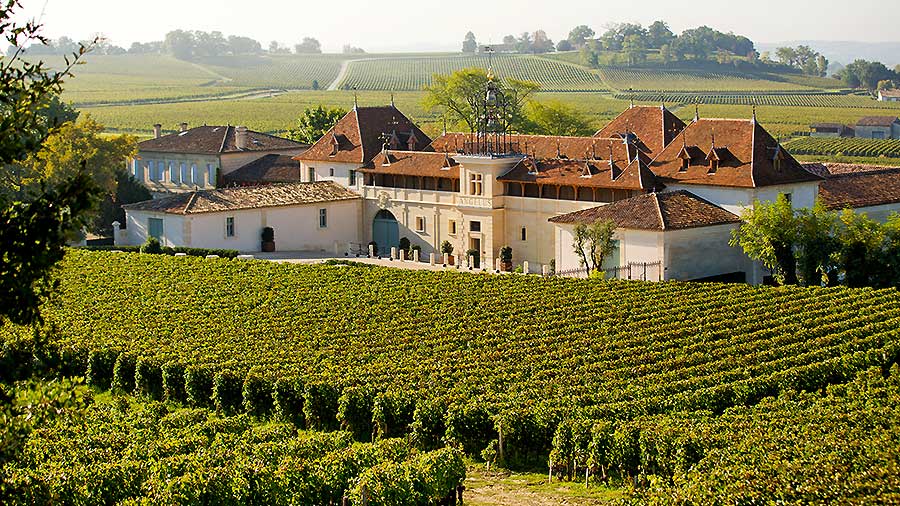 The vineyard of Château Angélus is situated in a natural amphitheatre overlooked by the three Saint-Emilion churches. In the middle of this special site, the sounds were amplified and the angelus bells could be heard ringing in the morning, at midday and in the evening. They cadenced the working day in the vineyards and villages, calling the men and women to stop their labours for a few minutes and pray.

The Angelus devotion has a long history originating in 11th-century monastic custom, but the ringing of a noon bell is attributed to Pope Callistus III, who ordered a prayer for protection against the Turkish invasions of the 1400's. The bell on the Château Angélus label recalls the call to prayer and the moment of devotion.

The 4,400 m² winery building, set among 3.3 hectares (8.1 acres) of land, is half- underground and features a green roof. The new facilities include a harvest reception area with a laser optical sorting line, a vinification room, a cellar for the malo-lactic fermentation and a barrel cellar. A bottling and packaging line will be added to complete these facilities.

The vinification cellar with its 18 inverted tronco-conical vats, features a vat-filling system using hoists and a vat elevator, allowing 100% gravity-flow. Nitrogen-generating equipment provides permanent protection for the wines and controls oxygen levels both during the vinification and the ageing process.

Château Angélus is recognised as one of the foremost properties in its appellation area. This recognition has been documented in one classification after another, the last of which awarded Château Angélus the status of Premier Grand Cru Classé "A".
Address:
Château Angélus
33330 Saint-Emilion
France
---
Be the first to rate and write a review for Château Angélus ... here