Domaines Schlumberger
Alsace, France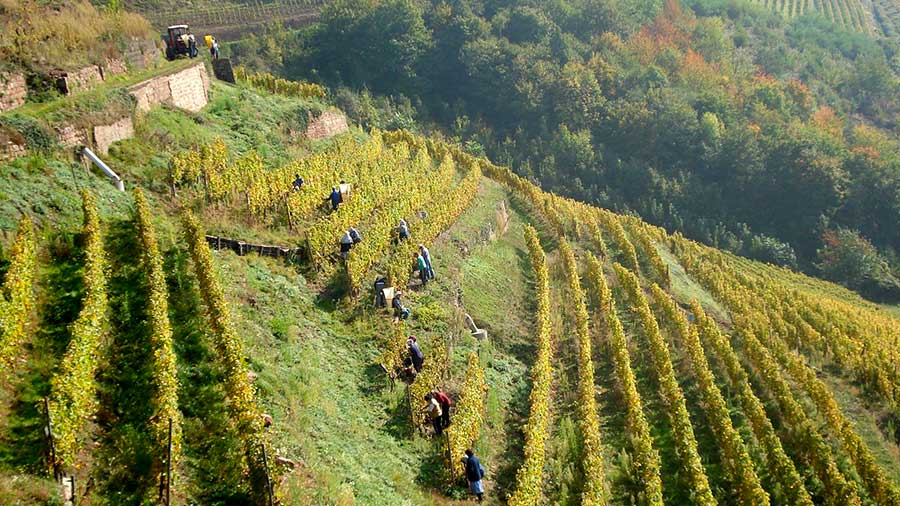 Wine Region : Alsace, France
Size : 130 ha (321 acres)
Grapes : Riesling, Gewurztraminer
Winemaker : Fam. Schlumberger / Alain Freyburger
Web: Domaines Schlumberger Alsace

Located between Colmar and Mulhouse, close to Switzerland and Germany, the Domaines Schlumberger vineyards cover the vertiginous slopes of Guebwiller. Unlike other winegrowers, the Domaine Schlumberger has never abandoned horse ploughing. Domaines Schlumberger is a winegrowers estate who exclusively harvest and produce their own wines. They do not buy any grapes nor juice or wine.

HISTORY
Created in 1810 by Nicolas Schlumberger and developed by Ernest Schlumberger in the early 20th century, it is a unique case in Alsace. Vigneron Independent for over 200 years, Domaines Schlumberger vinifies exclusively their own harvest. Custodians of an exceptional family property the vineyard respects their history and culture, maintaining the balance between tradition and modernity. Kitterlé has been sold under its own name by Domaine Schlumberger since 1830.

VINEYARD & TERROIR
With 130 ha, including 70 ha classified Grand Cru thanks to the work of Eric Beydon-Schlumberger, it includes four exceptional terroirs: the Kitterlé, Saering, Spiegel and Kessler. In order to reduce the natural erosion of sandy grounds, the vineyard is arranged in terraces supported by 50 kilometres (35 miles) of dry stone walls made of Vosges sandstone. The Vosges sandstone, on the edge of the mountain,produces subtle nuances: plots located anly a few meters from each other can produce very different wines. An exeptional location. Situated on the steep hillsides of the Vosges, the vineyard benefits from the best exposures (southwest, south, southeast); its slopes can reach 50°.

WINES
A complete and easily identifying range of wine : - Les Grands Crus : jewel of the Domaine Schlumberger, the Grands Crus offers 3 varieties : Riesling, Pinot Gris, Gewurztraminer (only 4 varieties are authorized to be classified as Grands Crus). - Les Princes Abbés : this range offers the 7 Alsatian grape varieties. Each vintage benefits from grapes of high quality. - Les Cuvées de Collection : coming from Late Harvest or from Selection de Grains Nobles (noble roots), these wines are the rarest of the Domaine. They are only produced in exceptional years.

TEAM
Two generations of Schlumbergers are working side by side; Alain Beydon-Schlumberger (6th generation) amd Séverine and Thomas Schlumberger (7th generation).

VISITORS
The Domaines Schlumberger welcomes visitors and offers free wine tasting to discover the grape varieties from Alsace. By appointment only, the Domaines Schlumberger offer guided tours of the family estate. Tuesday to Saturday: 10:00 to 12:30 and 13:30 to 18:00 (1.30pm to 6pm). Reception wine and tasting cellar at 3 rue des Cours Populaires, 68500 Guebwiller, France
Address:
100 rue Théodore Deck
68500 Guebwiller, Alsace
France
---
Be the first to rate and write a review for Domaines Schlumberger ... here