Errazuriz
Aconcagua Valley, Chile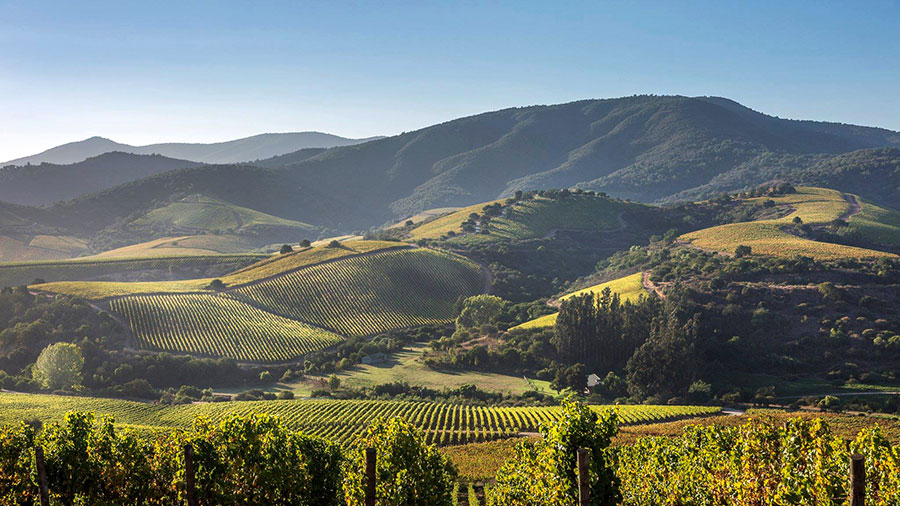 Located just 90 kilometres north of Santiago, Chile's capital, the traditional Aconcagua Valley is the last of the country's transversal valleys. Its basin is shaped by the Aconcagua River, which flows from the Andes Mountain Range into the Pacific Ocean. Its riverbanks are formed by alluvial and colluvial terraces, ideal for growing the finest grape varieties.

With granitic soils and a sandy loam texture, the 19.3 hectare Max I vineyard is the winery's symbol. Classic Bordeaux varieties, such as Cabernet Sauvignon, Merlot and Petit Verdot, in addition to Malbec and Syrah are grown here. It is also the place of origin of our renowned wines Don Maximiano Founder's Reserve and La Cumbre Syrah.

The Max II vineyard has soils of coluvial origin and clay loam texture with a high content of stones. The wines produced here show fruity flavours and sweet tannins. The vines of Cabernet Sauvignon, Syrah and Carmenère that grow here are part of our Max Reserva and Single Vineyard ranges.

The Max III 15.7 hectares- vineyard is certified organic since 2003. Its soils, of colluvial origin, loamy texture and with a high content of stones, are planted with vines of Cabernet Sauvignon and Syrah.

The Aconcagua Costa Estate vineyard is located in Aconcagua's coastal area, just about 12 kilometres from the Pacific Ocean, thus having the cold influence of the sea. On its soft hills, which are covered by a thin layer of loamy textured soils placed over a strata of clays and rocks, cold climate varieties such as Sauvignon Blanc, Chardonnay and Pinot Noir, in addition to Merlot and Syrah are grown.

The Aconcagua Valley's great telluric beauty and its mild Mediterranean climate, which features an extended dry season and rains concentrated mainly in winter, were the facts that most probably attracted Don Maximiano Errazuriz's attention, who 145 years ago, with a great vision, established his winery there. And he was not mistaken: the easy access to water for irrigation and the volcanic and colluvial origin of its soils, make Aconcagua a real viticultural paradise. From the mountains to the coast, this has been the origin of many of the most renowned Chilean wines.
Address:
Avda. Nueva Tajamar 481
Torre Sur, Las Condes
Santiago, Chile
---
Be the first to rate and write a review for Errazuriz ... here